outdoor, horse, riding, horseback, horeseback riding, Southamerica, South America, Latin America, Travel, Adventure travel, Adventure, Jungle, Crocodile, Rainforest, horsetrekking, Cattle, cattledrives, Hacienda, Farm, Finca, cattledrive, events, all inclusive, working ranch, ranch, riding tours, Colombia, Columbia, grassland, tropical forest, country, vacations, Ecotravel, Eco travel, horseback safari, riding vacations, buffalo, nature, mountains, mountain, volcanoe, biodiversity, birdwatching, crocodile safari, ecotourism, wildlife, Outdoor Travel, Family, Family travel, no risk, tropic, sports, outdoor sports, traveling, backpacking, tourism, Info, tourist information, backage, rates, price, economic,

Crocodile Safari in CARDONAL at night
---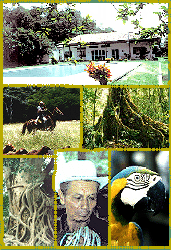 We leave the farmhouse with a jeep and reach the crocodiles lake after a ten minute tour. The eyes of the crocodiles are shining in dark red reflecting the lights of the car. You can see about 30 crocodiles eyes all watching the visitors. The guide turns off motor and lights and check the ground for snakes before the guests leave the car.With a electric lamp in your hand you follow the Guide who silently and slowly is checking the shore of the lake in search of crocodiles. With his handlamp he can "Hypnotisise" the crocodiles, what enables him to aproach very closely so that he can catch some of them by hand (small ones) The bigger ones (up to 1m)he catches with a peace of wire. After a short fight the croks give up and stay completly quiet. You can touch them and get your photos. Set free, they immediatly return to natural behavior. You also will board a little boat and aproach silently to the bigger Crocodiles which generally swimm in deeper waters. Some of them reach two and a half meter maybee more... Returning to the Farmhouse we have a drink and the hardcore people are sure that they will try it themselfes tomorrow...and some of them really will catch a crocodile with their own hands before they are leaving CARDONAL.
---
Regular tours run by Colombia Outdoor Experience include:
Klick here to Contact us for booking or further information!
Or phone/mail/fax to:

Wilfried Ellmer
Diagrotol
Cra.5 No.28A-10
Ibague - Colombia

Tel.: 57-82-651464 or 57-82-642520
Fax : 57-82-650259
Prefix Colombia: 57
Prefix Ibague: 82
E-Mail: diagroto@ibague.cetcol.net.co

---
Germany:
Detailed travel information, travel experiences and Video of Hacienda Cardonal available from:
PROTRAIN -Alfred Braun / Clara Martinez
Sebastian Bauer Str.37
81737 München
Tel.: 089-677569
E-Mail: clara.martinez@gdn.de
---
©1997 Colombia Outdoor Experience. COUNTER
This page has been visited

times.